Marc & Karin's Round-the-World Photos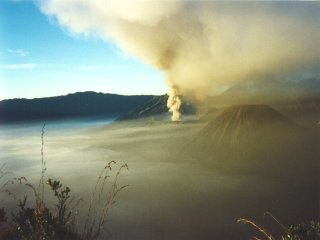 Sunrise at Mount Bromo, looking southwest from the rim of Gunung Tengger (2770m = 9070 ft). The dark mountain range to the left is the other side of the Gunung Tengger rim, which we are standing on. There are three volcanoes inside the crater: Gunung Kursi behind Gunung Bromo, and Gunung Batok in the front. The much larger Gunung Semeru (3 676m = 12,060 ft) is in the background. Cemoro Lawang, northeast Java, Indonesia. October 1995.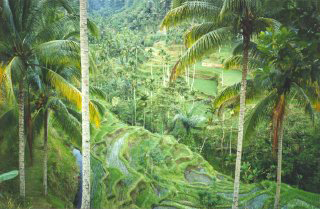 The rice terraces of Bali, Indonesia. October 1995.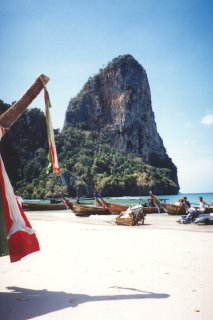 Cargo and transport boats in a remote tourist spot famous for calm beaches and limestone peaks. Rai Leh West, southwest Thailand. February 1996.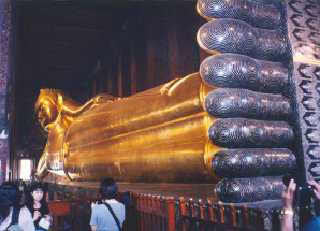 Reclining Golden Buddha laying his head down in his final moments before passing into nirvana. He is 46m (151 ft) long and 15m (50 ft) high. Wat Pho Temple (18th century), Bangkok, Thailand. March 1996.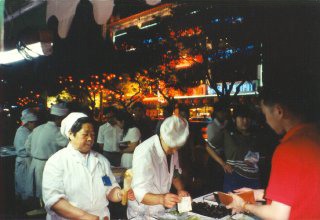 Foodstalls line the street for 130m (500 ft) at the Donganmen Night Market in Beijing, China. June 1996.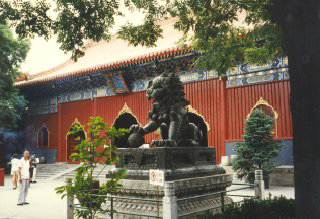 Yonghegong Tibetan Lamasery (18th century) in Beijing, China. June 1996.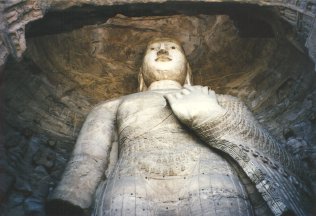 Sixteen-meter (53 ft), 5th-century Buddha statue sculpted into the side of a sandstone mountain. Yungang Caves near Datong, Shanxi Province, China. June 1996.
Labrang Tibetan Lamasery (17th century) in Xiahe at 1920m (9580 ft) in the mountains of Gansu Province, China. June 1996.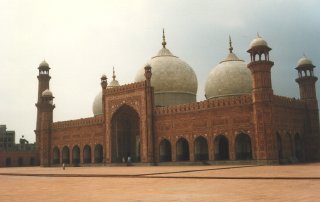 Badshahi Masjid (17th century), one of the largest mosques in the world. Lahore, eastern Pakistan. September 1996.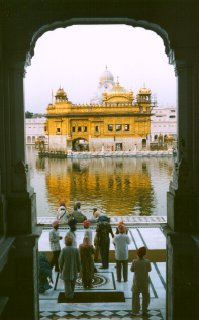 Turbaned Sikhs at the main entrance to the Golden Temple. They circumambulate clockwise on the cool marble, then into the temple where their holy book, the Adi Granth, is continuously read in a chant. Amritsar, northwest India. September 1996.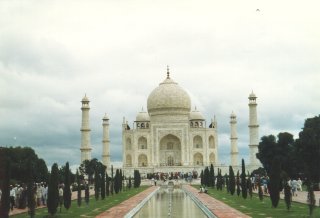 The Taj Mahal (Crown Palace) comes alive on Fridays, the Muslim day of prayer when entrance is free to the public. It is a tomb (17th century) for Shah Jahan's wife Mumtaz Mahal, and later for himself. She died at age 39 giving birth to their fourteenth child. It took 22 years to build and employed 20,000 from all over Asia. A fleet of 1000 elephants carried the marble 300km (180 miles) from Jodhpur. Agra, India. October 1996.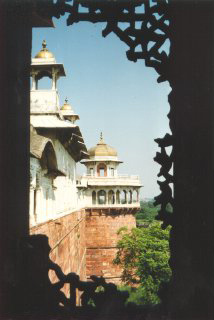 Octagonal towers at Akbar's Red Fort (16th century). Shah Jahan spent all the empire's money, so his son Aurangzeb imprisoned him here so he could look down the Yamuna River to the Taj Mahal. Agra, India. October 1996.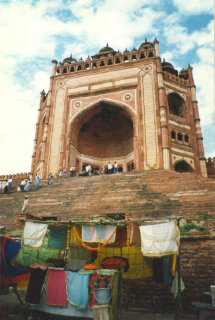 There are 92 steps climbing 13m (43 ft) to the 41m (135 ft) high pink-red sandstone Buland Darwaza (Triumphal Gate) at the largest mosque in India, the Jami Masjid (16th century). Fatehpur Sikri, India. October 1996.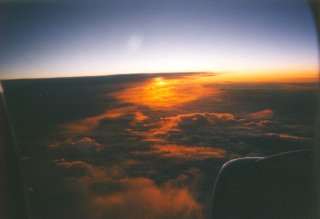 Sunset over Canada on our flight home, after 21 months on the road. March 29, 1997.
---
PerpetualTravel.com