Travel Highlights

Links below go to ten-page stories during the first year of travel, and are stored at PerpetualTravel.com. The rest of this extensive page is the only writing we have done for the rest of our travels after 1996.
---
RTW 1: 1995-98
The Journey Begins
Hopping Across the USA
Palm Bay - July 14, 1995. Farewell and flight.
Fort Worth - Friends. Flight.
Denver - Friend. Train into Rockies.
Granby - Friends. Rocky Mountain NP. Train to west coast.
Berkeley - Friends. Muir Woods, San Francisco.
Yosemite NP - Nevada Falls, Giant Sequoias.
Berkeley - Campus. PCH: 17-mile Drive in Pebble Beach, Big Sur, Point Lobos State Park, Carmel, Nepenthe.
Morro Bay - Friends. La Purisima Mission, Lompoc. Danish city of Solvang. Santa Barbara. San Luis Obispo. Hearst Castle. Train south through Vandenberg Air Force Base.
Los Angelas - Friends. Sunset Boulevard. Wright Hollyhock House. Beverly Hills. UCLA. Lake Shrine in Pacific Palisades. Trader Joe's.
Southeast Asia 1: Singapore, Malaysia, Indonesia
Singapore - August 4, 1995. Friend from FIT. Arab District, Little India, and Chinatown. Independence Day. Train north.
Ipoh, Malaysia - Free tour of city from a stranger.
Penang - Roamed the city, and to the beach.
Medan, Indonesia - Boat ride across the Melakan Straits to Sumatra.
Bukit Lawang - Orangutan Rehabilitation Center.
Berastagi - Gunung Sibayak volcano hike.
Ketembe - Gunung Leuser NP. Rhinoceros hornbills.
Blangkejeren - Rest stop.
Takengon - Rest stop.
Banda Aceh - University student showed us the city and Lhok Nga beach.
Pulau Weh - Ferry to island. Bungalows on stilts in a secluded village along the shore. Diving.
Banda Aceh.
Tapaktuan - Friend. Seven Step Waterfall.
Berastagi - Rest stop.
Ambarita, Pulau Samosir - Island in Lake Toba, in flooded volcano. Tout on ferry tried to intimidate some of us by flashing a knife.
Bukittingi - Minangkabau buffalo bullfight.
Padang - Flew to Jakarta.
Jakarta, Java - Extreme air pollution. National Museum. Servas stay. Bogor Botanical Gardens.
Cirebon - Small coastal town with friendly people. Kraton Kespuhan palace.
Yogyakarta - Borobudur. Becak tour: Sultan's Palace, batik factory, batik painting shop, wayang kulit puppet factory, silver processing factory.
Solo - Batik course. Bicycle tour: batik factory, bakery, gamelan brass drum factory, circumcision party, arak rum distillery, rice-cracker factory. Traditional Javanese wedding ceremony. Mang Kunegara Palace.
Cemoro Lawang - Mount Bromo volcano at sunrise.
Denpassar, Bali - Cremation ceremony.
Ubud - Friends in Cerik River Valley. Jeep tour: Barong Dance, Pura Besakih Temple. Kecak Dance. Legong Dance. Jeep tour through the mountains.
Legian - Visit friends. Ceremony for baby.
Australia
Darwin - October 13th, 1995. Bali belly for two days. Reverse culture shock. Outback bus-camping tour for three days in Kakadu NP: frill-necked lizard, termite mounds, Annaburroo Billabong; barbequed kangaroo and emu steaks, crocodile, camel sausage, and buffalo burgers; freshwater lake and saltwater river boating to see crocodiles; Ubirr Aboriginal rock art; Arnhemland Plateau; park headquarters and ecology museum; Garden Falls Billabong swim; Barramundi Gorge swim; Nourlangie rock art site.
Cairns - Friends in Clifton Beach. Live-aboard diving for three days in Coral Sea and Great Barrier Reef: Holmes Reef Amazing Caves, Bridge of Sighs, Abyss, Cathedral, Nonkie Bommie; Flynn Reef, Thetford Reef. Training friends on Internet, so they bought local ISP within the year. Dinner with West Indian friends.
Sydney - Stayed in King's Cross. Visit friend from home also here. Opera House. Paramata. Port cliffs. Harbor.
Adelaide - Friend. Grand Prix. University archaeological museum. Built a webpage for another friend; Zorba's Greek Restaurant for dancing to live music.
Runaway Bay - Friend from batik course. Surfer's Paradise, Burleigh Head NP to see kookaburra. Carrumbin Sanctuary to see koalas and feed rainbow lorikeets. Three-day camping trip along Gold Coast: Byron Bay, Back Beach, Grafton.
New Zealand
Auckland - Nov 23, 1995. Domain Park and Auckland Museum. Gamelan concert. Servas visit.
Rotorua - Rest stop.
Gisborne - Servas stay on sheep station. Beach. Hitchhiked onward with ride from a Maori.
Napier - Stayed with Zonta Club host. Hitchhiked with another Maori, then an 87-year-young grandma.
Taupo - Huka Falls. Orakei Korako thermal area. Craters of the Moon. Hitchhiked onward with a Maori.
Palmerston North - Servas stay. University tour with Internet acquaintances. Manawatu Gorge. Hitchhiked in a gold Ford Fairlane 500 with a non-Maori.
Wellington - Servas stay. Mount Victoria. Oriental Bay. Peninsula coast drive. Neighborhood Christmas party. Ferry across Cook Straits, through the Marlborough Sound, to Picton on South Island.
Nelson - Abel Tasman rained out.
Tadmor - Servas stay in a log cabin on a promontory over an uninhabited valley. Punakaiki Pancake Rocks.
Greymouth - Christmas bonfire on the beach. Hokitika to see jade. Ross gold rush town. Lake Mahinapua.
Franz Josef - Hike in hobnail boots up the face of glacier.
Makarora - Rest stop. Wanaka. Kawarau River Gorge to see bungy jumpers.
Queenstown - Rest stop, since flooding and landslides took out roads.
Dunedin - Chalet Backpackers in old hospital. Otago Museum. Octagon.
Ashburton - Servas stay. New Years Eve fireworks. Lake Lyndon. Arthur's Pass. Hike to Devil's Punchbowl Waterfall.
Christchurch - Hitched a ride into town with a chef, who gave us a tour of the city. Servas stay. Cathedral. The Wizard. Bob Marley exhibit at museum.
Le Bons Bay - Hitchiked with mayor to Banks Peninsula. Akaroa Fire Services demonstration. Haybarn hostel.
Akaroa - Servas stay in a B&B.
Christchurch - Canoed Avon River in Hagley Park Gardens. Sumner city to visit friends. Antarctic Center. Servas visit.
Southeast Asia 2: Malaysia, Singapore & Thailand
Kuala Lumpur, Malaysia - Jan 14, 1996. Overnighter.
Singapore - Airport to meet backpacker friends. Dragonboat practice in lightning with expat friends. Ramadan feast. Chinese Art Exhibition. Teow Chew fish feast.
Malacca, Malaysia - Dutch churches and buildings. Little India for Thaipusam Festival.
Kuala Lumpur - Chinatown. Servas visit to night market in Little India, then Merdeka Square and the Sultan Abdul Samad Building.
Satun, Thailand - Rest stop. Pak Bara pier for boat to islands.
Ko Lipe - Bamboo beach bungalow. Snorkeling at Ko Rawi.
Trang - Rest stop. Hariraya Puasa and Chinese New Year.
Krabi - Daytrips to Rai Leh beaches and caves. Night market. Wat Tham Seua (Tiger Cave Temple).
Chumphon - Rest stop.
Southeast Asia 3: Bangkok
35 days. Intro to Khao San Road. Grand Palace. Wat Pho reclining Buddha. Siam Square shopping areas. Tour with Internet acquaintances to King's Summer Palace at Bang Pa-In. Visited expat met on Internet. Met Fran the magician, and found the public pool. Funeral ceremony for the King's Mother at Sanam Luang. Karin visited Guam for a week, and Korea for a day. Train to Phitsanalok.
Southeast Asia 4: Thailand & Laos
Sukhothai - Hotel next to a slaughterhouse. Biked through Old Sukhothai Historical Park.
Chiang Mai - Chiang Mai University for Internet access. Songkran water fun.
Chiang Khong - Dinner on the Mekong.
Huay Xai, Laos - Crossed the Mekong River, and went back in time. Speedboat downriver.
Pak Beng - Cliffside rest stop. Speedboat.
Luang Prabang - Royal town with many old temples, and some French colonial remains. Pimai, or Lao New Year, and Songkran water festival parade. Hmong tribespeople. Bike tour. Flew over mountains.
Udomxai (Muang Xai) - Rest stop.
Luang Nam Tha - Rest stop.
Muang Sing - Remote village. Biked to hilltribe villages. Bun Ban Fai Rocket Festival. Luang Nam Tha market, then Boten border post, then Chinese border post Mohan.
China 1: The Deep South
Mengla - April 28, 1996. Dinner with group that gave us a ride.
Jinghong - Dai people. Lounging at the Forest Cafe. Sancha River Nature Protection Region with Australian biologist teaching environmentalism. Flew north.
Kunming - Rest stop in a big city. Sleeper bus.
Dali - Third Moon Fair. Bai and Naxi people. Mr. China's Son Cafe. Both sick with bad case of influenza.
Lijiang - Naxi town in mountains, recently damaged by strong earthquake. Night bus.
Kunming - Flower Market. Fruit Market. Friends from Sancha tour. Train 32-hr east to Guilin.
Yangshuo - Backpacker village on the Li River, amongst limestone mountains. Train 36-hr north.
China 2: Beijing
18 days, since we kept meeting interesting backpackers. Sanlitun Embassy area to get Pakistan and Indian visas; stockpile Western goods from the supermarkets; and eat in good restaurants. Met a man from the Tanzanian embassy, who gave us a tour and a meal. Wanfujing Avenue to Donganmen Night Market. Tiananmen Square. Largest McDonald's in the world. Met Henry from Switzerland, who we still travel with. Outdoor clothing market. Muslim Hui fruit and vegetable market, and night-time open-air restaurants. Beijing Concert Hall for violin recital. Summer Palace. Great Wall at Simatai. Silk Market. Friendship Store. Found Internet after searching for two weeks. Ancient Observatory. Yonghegong Tibetan Lamasery.
China 3: Northern Crossing
Datong - City of gougers. Pollution that burns eyes and throats, and went on to be the worst in China. Hanging Monastery. Yungang Buddhist Caves. Train 36-hr west; Kazakhs from Yining taught Marc some Uighur language, and tried to adopt him.
Lanzhou - Frontier town of three million. Night market. Met Silk Road Camel Caravan expedition team on the bus into the mountains.
Xiahe - Tibetan monastary village.
Lanzhou - Night market with the expedition. Meet the camels. Train 36-hr west.
China 4: The Wild West
Turfan - Desert Basin is the second lowest depression, and one of the hottest places on earth 47°C (116°F). Uighur Dance Show. Churrasco and hami melons under grape trellises with Brazilians working highway contracts.
Ürümqi - Night market. Xinjiang Autonomous Region Museum to see mummies. Sleeper bus 36 hr, through desert, with sandstorms.
Kashgar - Sunday Market with European expat family of six. Bike around town for two days. Bus stopped at Karakol Lake in the Pamir Mountains, to visit Tadjiks in yurts.
Tashkurgan - Crossed border at Khunjerab Pass to Sust, Pakistan.
The Missing Dispatches
Pakistan
Passu - July 15, 1996. Sleeping in front of a glacier in the middle of nowhere.
Karimabad - Marc experiences dysentary!
Gilgit - Polo.
Skardu - Near K2.
Gilgit
Besham - Rest stop.
Islamabad - Extend visa.
Rawalpindi
Peshawar - Market. Flew between Hindu Kush mountains.
Chitral - Small town on a river.
Rumbur - Kailash valley hikes.
Bumburet - Kailash valley hikes.
Chitral
Dir - Rest stop.
Peshawar
Rawalpindi
Lahore - Palace fort and museum.
India
Amritsar - Sep 1996. Slept and ate at the Golden Temple.
Dharamsala - Dalai Lama's home in the Himalayas.
New Delhi
Agra - Taj Mahal. Red Fort. Fatehpur Sikhri.
Gwalior - Fort on a hill. Camera died.
Orchha - Cool abandoned palace.
Khajuraho - Erotic temple sculpture.
Nepal
Sunauli - Oct 1996. Border town.
Tansen - Village in mountains. Hospital tour.
Pokhara - Tourist center.
Kathmandu - Friends. Rested for a few weeks. Palace. Dussain/Dussehra.
Sunauli - Border crossing.
India
Varanasi - Nov 1996. Diwali/Deepavali.
New Delhi
Pushkar - Camel Festival.
Jaipur - Polluted. Fort and palaces missable.
Bharatpur - Kheoladeo Bird Sanctuary bike tour.
New Delhi
Sanchi - Ancient Buddhist temple.
Bhopal - Tribal Museum.
Indore - Rest stop.
Mandu - Bike around ruins on plateau.
Omkareshwar - Temple town.
Jalgaon - Marc gets typhoid fever for Christmas.
Bombay - See it to believe it.
Udaipur - Nice palace and people.
New Delhi
Netherlands
Delft - Jan 1997. Stayed with Karin's sister for two months. Vlooienmarkt for lekkerbek. Omniversum Museum in Den Haag. Wereld Museum in Rotterdam. Roamed country visiting friends we met in Asia. Ate too many sweets. Karin got chicken pox!
Haarlem - De Tropen Museum in Amsterdam. Long bike ride in freezing rain.
Heiloo
Castricum - Zandvoort sand dunes. Alkmaar.
Maastricht - Cheese and wine tour in nearby Dutch, German, and Belgian monasteries.
USA & Netherlands Antilles
Miami - March 1997. Stayed with Marc's mom for a month.
Palm Bay - Visited friends, and completed the circle. Nothing has changed!
St. Maarten - Visited Karin's parents, and friends in Anguilla, in May 1997.
Curacao - Visited Karin's sisters in July 1997.
Miami - Retrieved belongings from storage, and loaded minivan.
Palm Bay - Rented an apartment in Aug 1997.
Curacao - Karin's father passed away in Sep 1997.
Palm Bay - Bought a car and a computer in Jan 1998.
Pass Christian, MS - Visited friends for Mardi Gras 1998, and went to New Orleans. Friends in Tallahassee.
Palm Bay - Relaxed until 1999, then got jobs. The 3.5-year honeymoon ends.
Curacao - Karin's mother passed away in Nov 2001.
Took a few short trips during the years, to see friends and family in Curacao, Vermont, DC, Chicago, Boston, and Boulder.

Back to Asia
US Road Trip: Part 1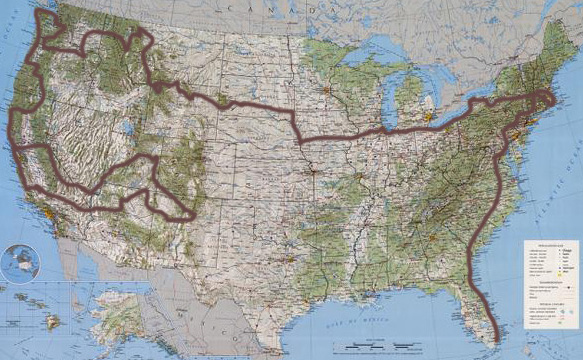 Jun 29, 2005. On the road again, starting with a five-month, 15,000-mile road trip in a 14-year-old car with 275,000 miles.
Miami - Visited Marc's mom for a month. Karin visited family in Curacao.
Palm Bay - Last chance to see friends.
Jacksonville, FL - Friends
St. George, SC
Fayetteville, NC - Airborne & Special Operations Museum
Paeonian Springs, VA - Friends. Great Falls NP. Smithsonian's National Air & Space Museum, Udvar-Hazy Center at Dulles. Waterford. Washington & Old Dominion Trail.
Arlington, VA - Friends. Four days touring DC.
Brattleboro, VT - Friends
Boston, MA - Friends. Minuteman Trail NP. Museum of Science. Lascivious Biddies
Providence, RI - Roger Williams Park & Zoo
Newport, RI - Cliff Walk along ocean to see mansions. Camped in Middletown.
Mystic Seaport, MA - Tall-ships museum
Brattleboro, VT - Friends. Green Mountain National Forest. Pick blueberries.
Ithaca, NY - Toured Cornell University
Rochester, NY - Seneca Falls Zoo
Buffalo, NY - Niagara Falls at dawn.
Cleveland, OH - Metropolitan Zoo
Sandusky, OH - Rode 18 rollercoasters in 11 hours at Cedar Rapids.
Chicago, IL - Friends. Brookfield Zoo.
Iowa City, IA - Lunch
Pella, IA - Dutch village; now a bit too touristy.
Omaha, NE - Amazing Henry Doorly Zoo for entire day, and should have made it two, or gotten a job there!
Whiting, IA - Camping in a cornfield along the Missouri River.
Mitchell, SD - Corn Palace
Badlands NP - Camp
Mount Rushmore National Monument
Custer State Park, SD - Should be a National Park. Big Horn Mountains.
Buffalo, WY
Cody, WY - Bull-riding rodeo. Beartooth Pass. Buffalo Bill Historical Center: The Plains Indian Museum, The Whitney Gallery of Western Art, The Buffalo Bill Museum, The Draper Museum of Natural History (Yellowstone ecosystem), and The Cody Firearms Museum.
Yellowstone NP -Three interesting days full of elk, wolves, grizzly bears, waterfalls, and geysers; and two below-freezing nights in a tent.
Big Sky, MT - Friends. Hiked trails. Bozeman Farmer's Market. Saw a moose. Snow in August.
Glacier NP - Another amazing place.
Missoula, MT
Pendleton, OR - Camped next to a great rodeo.
Columbia River drive: Maryhills Museum, Bonneville Lock and Dam, and many waterfalls.
Cascade Locks, OR - Camp
Portland, OR - Nice zoo, and interesting city.
Mount St. Helen's National Volcanic Monument
Mt. Rainier NP
Seattle, WA - Friends. Woodland Park Zoo. Pike Place Market. Underground Tour.
Olympic NP - Another fascinating park.
Bruceport County Park, WA - Camp
Astoria, OR
Beaver, OR - Tillamook Cheese Factory. Three Cape Scenic Drive.
Florence, OR - Waterford Depot for a great meal.
Rogue-Umpqua National Scenic Byway - Autumn colors the whole way.
Crater Lake NP
Klamath Falls, OR - Tule Lake rookery
Lava Beds National Monument
Redding, CA - Sundial Bridge
Arcata, CA. Eureka to eat at the Samoa Cookhouse.
Humboldt Redwoods State Park, CA
Ft. Bragg, CA - Museum
Berkeley, CA - Friends. San Francisco.
Yosemite NP - A real favorite. Stayed longer than planned.
June Lake Loop Road - Autumn colors.
Bishop, CA - Ancient Bristlecone Pine Forest
Death Valley National Monument
Las Vegas, NV - Saw the Strip, slept, and left.
Zion NP - Another favorite.
Bryce NP - Drive-in wonder.
Grand Staircase Escalante NP - Autumn colors too.
Capitol Reef NP - Remote and colorful, with slot canyons.
Arches NP - Unique
Canyonlands NP - Liked it more than Grand Canyon.
Mesa Verde NP - Worthy stop.
Taos and Santa Fe, NM
Albuquerque, NM - Rest stop.
El Morro National Monument
Gallup, NM - Rest stop.
Canyon de Chelly National Monument
Goosenecks State Park, UT - Impressive river bends.
Monument Valley, AZ - Magical
Cameron, AZ - Rest stop.
Grand Canyon NP - South Rim at dawn on a cold morning.
Kingman, AZ - Rest stop.
Bakersfield, CA - Basque lunch
Morro Bay, CA - Friend's place to prep for Asia. San Luis Obispo. Piedras Blancas elephant seal colony.
Coastal drive through Big Sur, Monterrey, and SF.
Berkeley, CA - Friends. San Francisco. Camera died two hours before heading to SF Airport.
Hong Kong
Nov 28, 2005. A week of eating dim sum, interrupted by walks between restaurants. Pollution was overwhelming.
Thailand
Stopped just for H.M. King Bumipol Adulyadej's gigantic 79th birthday party on Dec 5th. Visited friends. Grand opening of Siam Paragon.
Cambodia
Angkor Wat - Dec 11, 2005. Two days visiting temples, and no camera. Six days relaxing from the last five months of travel.
Battambang - Overhyped boat ride to quiet city. Cooking class.
Phnom Penh - Good food every day and night, overlooking a wide esplanade along the Mekong River. Central Market. Palace. National Museum. Cooking class.
Kampot - Quiet town on river, close to ocean.
Phnom Penh - Palace and museum. Nice esplanade along Mekong.
Bangkok, Thailand - Overnighted to pick up repaired camera.
Myanmar
Yangon - Jan 11, 2006. Shwedagon Temple.
Thazi - Rest stop after awful train ride.
Kalaw - Small town in the hills.
Nyaungshwe - Inle Lake canoe trip to village. Walk in hills.
Mandalay - U Bein's Bridge in Amarapura. Sagaing temples. Inwa ruins. Cruise down Irrawaddy River to Bagan.
Bagan - Temples in all directions.
Thailand
Bangkok - Feb 8, 2006. Friends, and lots of good food. International Film Festival.
Khao Yai NP - Saw plenty of animals on a well-guided hike in the forest.
Chiang Khan - Mekong River town.
Sang Khom - Another quiet little village on the Mekong.
Laos
Vientiane - Mar 4, 2006. Lao National Museum. Hard to believe it is a capital.
Luang Prabang - One of our favorite places.
Muang Ngoi Neua - Tiny village up a small river.
Udomxai - Rest from long day on road.
Luang Nam Tha - Two-day hike, Ban Nalan Trail, Nam Ha National Protected Area.
Huay Xai - Unrecognizable ten years later.
Thailand
Chiang Khong - Apr 2, 2006. Mekong River border town.
Chiang Mai - A month of relaxation, and five days of Songkran.
Bangkok
India 2006
Kolkata/Calcutta - May 3, 2006. Shocking re-introduction. Too hot, also.
Siliguri - Toy train for seven hours.
Darjeeling - Three weeks of wandering the hills, and acclimating to India again, though quite Nepali and Tibetan. Morning view of Kanchenjunga, world's third highest peak.
Kalimpong - Area with many Tibetans, and lots of orchids.
Siliguri - Unavoidable town, for train.
Delhi - Friends
Leh - Flight turned around just before landing due to bad weather. Arrived Jun 18, 2006 at 11,500 feet, with snow on the mountains. Stayed three months to relax, and avoid the monsoon, but it made it there for the first time anyone remembers, and caused extensive damage to mud houses and terraced fields, and left us with an hour of electricity a day. Thiksey. Hemis Festival. Alchi. Dah Hanu. Ladakh Festival.
Keylong - Sep 7, 2006. Bus through the mountains across high-elevation passes.
Vashist - Manali forest walk.
Naggar - Three-day hike over Chandrakani Pass.
Shimla - Hill station that the British used as summer capital. Wonderful toy train ride over 92 old bridges, and through 103 short tunnels.
Chandigarh - Modern planned city. Almost all men are Sikh, so turbans everywhere! Rock Garden of mosaic walls and statues.
Delhi - Friends. Craft Museum very much worth seeing.
Jaigaon - Border town for quick visit to Bhutan.
Gangtok - Dussain/Dusshera. Rumtek Monastery. Flower Show Complex.
Pelling - Rimbi Falls. Sewaro Rock Garden. Kanchenjunga Falls. Khecheopalri Monastery and Lake. Pemayangtse Monastery. Rabdentse.
Darjeeling - Tibetan Refugee Self-Help Center. Lloyd's Botanical Garden. Happy Valley Tea Estate. Ghoom. Sonada Gompa.
Siliguri - Train
Kolkata/Calcutta - Old British market. Indian Museum. Sweets. Music shopping.
Thailand
Bangkok - Oct 27, 2006. Friends.
Chiang Mai - Six weeks of Thai language lessons, so we could get off tourist trail. Loy Krathong. Royal Flora Ratchapruek Expo. European Union Film Festival. Food and Entertainment Festival at the 700 Year Stadium.
Chiang Khong - Border town on Mekong.
Laos
Huay Xai - Dec 24, 2006. Border town on Mekong.
Vientiane
Paksan - Small town on Mekong.
Ban Kong Lo - Small boat on river that runs through a mountain for 7km.
Tha Khaek - Small town on Mekong.
Savannakhet - Large town on Mekong.
Pakse - Small town on Mekong. Friend we met in Beijing in 1996 joined us.
Sekong - Village tour
Attepeu - Small town in the SE corner.
Pakse
Thailand
Mukdahan - Jan 29, 2007. Small border city on the Mekong, with cute night market.
That Phanom - Small city on the Mekong. Temple festival
Nakhon Phanom - Large border city on the Mekong.
Bueng Kan - Small city on the Mekong.
Nong Khai - Border city on the Mekong, with good seafood at small night market. Sala Kaew Ku, a park full of enormous Hindu statues.
Chiang Khan - Small town on the Mekong. Huay Krating to float on a lake in bamboo huts.
Phrae - Rest stop
Nan - Bike tour of countryside with Fhu Travel. Temple festival. Nan National Museum.
Lampang - Elephant Conversation Center for an hour elephant ride. Wat Phra That Lampang Luang.
Chiang Mai - Favorite rest place. Art & Culture Fest.
Ayuthaya - Songkran with friends.
Bangkok - Friends
US Road Trip: Part 2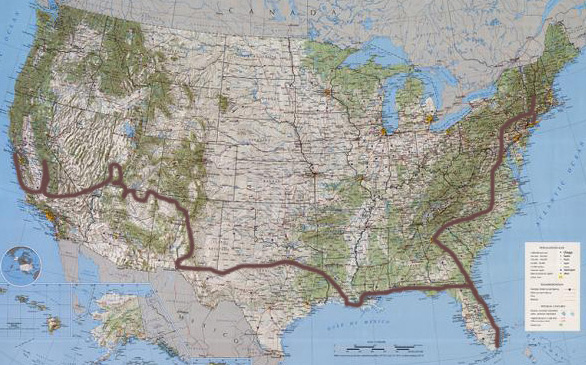 Berkeley, CA - Apr 19, 2007. Friends. San Francisco. Lots of lovely food. Javanese Gamelan performance. University Symphony Orchestra & Chorus. Napa Valley. Muir Woods. Rented a new Chrysler Sebring for two-month road trip home.
Monterey Bay Aquarium Research Institute in Moss Landing
Morro Bay, CA - Avila Beach. Oceano. Guadalupe-Nipomo Dunes Complex. Santa Maria. Arroyo Grande. San Luis Obispo for the Thursday Street Market & Street Party. Jocko's Steak House in Nipomo. Cayucos. Carrizo Plain National Monument.
Bakersfield, CA - Friends. Basque food. Buck Owen's Crystal Palace.
King's Canyon NP and Sequoia NP
Kanarraville, UT - Camp by Kolob Canyon section of Zion NP.
Zion NP - Camp in main section. Angel's Landing.
Kanab, UT - Camp
Grand Canyon NP - North Rim
Lee's Ferry, Glen Canyon National Recreation Area - Nice spot to camp on Colorado River. Navajo Bridge Interpretive Center.
Wahweap, Glen Canyon National Recreation Area - Camp by Lake Powell and Dam. Horseshoe Bend.
Navajo National Monument
Tuba City - Lunch
Monument Valley Tribal Park - Camped for three days. Many good walks, drives, and meals. Kayenta for Wednesday Flea Market.
Goosenecks State Park, UT - Impressive river bends.
Moki Dugway to Muley Point Overlook for a great view of Valley of the Gods.
Natural Bridges National Monument
Blanding, UT - Rest for a couple days.
Bandelier National Monument - Camp. Bradbury Science Museum in Los Alamos.
Santa Fe, NM - Great food. Museum of International Folk Art for interesting and well-presented exhibits.
Alamogordo - White Sands National Monument. White Sands Missile Range Museum.
La Mesa for dinner at Chope's. Drive through El Paso.
Guadalupe Mountains NP - Camp and hike.
Carlsbad Caverns National Monument - Must see.
Dallas, TX - Friends. Sixth Floor Museum, the building from where Lee Harvey Oswald shot Kennedy. Lots of BBQ.
Eunice, LA - Heart of Cajun country. Boudin. Savoy Music Center. Acadian Cultural Center, Jean Lafitte National Historical Park & Preserve. Liberty Theater to see Jambalaya Cajun Band. Opelousas for dinner, and Evangeline Downs Casino.
Lafayette, LA - Vermillionville. Jean Lafitte NHPP.
Delcambre, LA - Friends. Tabasco Factory. New Iberia (James Lee Burke books). St. Martinville. Atchafalaya Basin. Breaux Bridge
Tour: Houma, NPS JLNHPP Acadian Culture Center in Thibodaux, and Baton Rouge.
Biloxi, MS - Rest stop, and a real shocker to see what the hurricane did.
Jacksonville, FL - Friends.
Palm Bay, FL - Scrambled around area visiting everyone we know, after being away two years.
Miami, FL - Marc's mom. July 2, 2007.
Curacao - July 24, 2007: Visit Karin's family.
Miami, FL - Aug 21 to Sep 28, 2007. Everglades NP.
Palm Bay, FL - Back on the road. Saw as many friends and doctors as possible. Merritt Island National Wildlife Refuge.
St. Augustine - Fort Matanzas National Monument. Castillo de San Marcos National Monument.
Jacksonville, FL - Friends.
Atlanta, GA - Friends. Atlanta Station. CNN. One speed: 80 mph bumper-to-bumper, while on the phone.
Asheville, NC
Asheboro, NC - Very good NC Zoological Park.
Arlington, VA - Friends. DC again. Visit friends in Frederick, MD and Paeonian Springs.
Brattleboro, VT - Friends. Rutland. Burlington.
JFK Airport and Vienna Airport
India 2007-8
Delhi - Nov 1, 2007. Friends. Craft Museum again.
Agra - Taj Mahal. Diwali.
Fatehpur Sikri - See Akbar's Palace; as good as the first time.
Ajmer - Sleep
Pushkar - Camel Fair. Nine days, and just as good as twelve years ago.
Jodhpur - Incredible palace fort, overlooking blue city. Mandore Gardens; nice temples and trees, real fun with 100 langurs.
Jaisalmer - Desert fort, but not worth the effort.
Ahmedabad - Congested and polluted.
Bhuj - West Gujarat town with nice people and clean air. Mandvi boat-building. Kutch tour.
Jamnagar - Old town.
Dwarka - Krishna temples on coast.
Junagadh - Big fort.
Diu - Ex-Portuguese island for Christmas and New Years.
Palitana - 4000 steps up, and 4000 down, to see some Jain temples.
Surat - To sleep after a bad bus ride. Congested and polluted.
Jalgaon - Ajanta Caves
Aurangabad - Ellora, with an impressive main temple worth a day alone.
Nasik - Kumbh Mela town with ghats like Varanasi. Trimbak.
Pune - Polluted and congested.
Kohlapur - Nice palace.
Hampi - Like Bedrock with temples. A backpacker hang-out.
Bangalore - Another polluted and congested city. Hospital for Marc's mystery backpain.
Hassan - Hoysala temples at Belur and Halebid, but Somnathpur near Mysore probably better.
Mysore - Amazing palace.
Thrissur - Nice intro to Kerala.
Kochi - Backwater boat trips. Nets.
Thiruvananthapuram/Trivandrum - Zoo. Padmanabhapuram Palace.
Madurai - Colorful Meenakshi Temple
Tiruvannamalai - Sri Ranganathaswamy Temple, which is worth the trouble.
Pondicherry - Brief stop in former French colony.
Mamallapuram - Touristy coastal village with magnificent boulder friezes, shrines, and Shore Temple.
Chennai - Brief stop, but looking forward to returning, especially to Annalakshmi Restaurant.
Tirupathi - Tirumala Hill temple, the richest, and most-visited pilgrimmage site in the world.
Vijayawada & Visakhapatnam - Rest stops.
Jagdalpur - Tribal areas in mountains of Chhattisgarh.
Jeypore - Base for tribal areas in south Orissa.
Onukudelli - Tribal area.
Visakhapatnam - Visit friend.
Puri - Sun Temple in Konark. Fishing village on the beach.
Kolkata / Calcutta
Malaysia
Penang - Apr 18, 2008. Friends. National Park. Chinese temples and shophouses. Penang Hill. Balik Pulau. Daily dim sum.
Thailand
Bangkok - May 7, 2008. Friends.
Chiang Mai - Rest for six-weeks, and take Thai reading and writing lessons.
Bangkok - Friends.
Malaysia
Kuching, Sarawak - Jun 29, 2008. Planned five, stayed 101! Seafood overload. Chinese temples and shophouses. Bako NP. Tun Jugah Pua Kumbu Museum. Semenggoh Orangutan Rehabilitation Center. Textile Museum. Sarawak Museum. Chinese Cultural Museum. Regatta longboat races. Kuching Festival Parade. Hungry Ghost Festival. Kubah NP and Matang Wildlife Center hike. Mid-Autumn/Lantern/Mooncake Festival. Wind and Fairy Caves. Bau.
Sibu - Rejang river city. Chinese temple. Giant market. Sibu Gateway.
Kapit - Rejang river town.
Telawan - Rejang river school. Help children with English. Longboat to longhouse. Saw hornbills.
Belaga - Rejang river town. Rest stop.
Miri - Rest stop.
Kota Kinabalu, Sabah - Friend from Florida. Waterfront markets. Sunday Market. Tamu Donggongan traditional market. Sabah Museum. Superb seafood. Nice sunsets at Tanjung Aru. Enjoyed monsoon.
Thailand
Bangkok - Nov 2, 2008. Friends. Taling Chan Floating Market. Wat Arun. Wat Traimit. Chinatown walk. Wat Suthat. Loy Krathong.
Vietnam
Hanoi - Nov 21, 2008. Hoan Kiem Lake. Old Quarter. Temple of Literature. Ethnology Museum. Ho Chi Minh Mausoleum and Museum. Museum of Vietnamese Revolution. Water Puppet Theater.
Halong City, Bay Chay side - Halong Bay cruise
Cat Ba Island - Halong Bay cruise and kayaking. National Park hike.
Ninh Binh - Bike to temples and karst mountains.
Dong Hoi - Quiet town with nice market and beach.
Hue - Imperial Enclosure. Enjoyed cafes and rain.
Hoi An - Old City. Bike to tombs, temples, and beach.
Kon Tum - The friendly town. Visited villages, orphanages, and hill-tribe museum. Stayed 11 days for Christmas celebrations.
Qui Nhon - Quiet beachside town.
Ho Chi Minh City (Saigon) - Reunification Palace. Jade Emperor Pagoda. Hydrofoil to Vung Tau for seafood. Cao Dai Temple. Cu Chi Tunnels. War Remnants Museum.
Ben Tre - Market
Can Tho - Floating Markets and backwater boat trip. Museum. Chinese Temple. Khmer Temple.
Ha Tien - Market
Cambodia
Kampot - Jan 8, 2009. Temple. Market. Nice walks. Good food and sunsets.
Phnom Penh - Wat Phnom. Central Market. Good food.
Siem Reap - Angkor Wat. Friends.
Thailand
Malaysia
Penang - Jan 23, 2009. Friends. Chinese New Year. Rest stop.
Singapore
Singapore - March 6, 2009. Friends. Jurong Bird Park. Zoo. Chinatown Heritage Center. Asian Civilisations Museum. Night Safari. Bukit Timah Nature Reserve.
Malaysia
Kuching - Mar 15, 2009. Friends. Hong San Si Temple Parade. Berumuh Festival in Serian. Qing Ming Tomb Sweeping Ceremony. MBKS Kuching History Photo Gallery. Serikin border market. Santubong trail hike. Dewan Tun Abdul Razak Museum. Hainan Matsu celebration and dinner. Friendship Garden. Sematan Fair and beach. Lundu and Pandan Beach. Gunung Gading NP. Dumpling Festival. Borneo Highlands. Gawai.
Thailand
Bangkok - Jun 11, 2009. Friends
Italy
Reggio Emilia - Jun 18, 2009. Friends. Market. Montecchio Emilia. Montecchiarugulo. San Polo d'Enza. Appenine NP in Toscana/Tuscany to hunt porcini mushrooms. Parma. Taneto. Canossa and Rossena Castles. Tibet House in Votigno. Rubiera. Notte Bianca Festival in Correggio. Traversetolo Market. Multicultural Festival in Collecchio. Bologna. Cavriago for Fiesta.
Padova - Friends. Basilica di San Antonio. Saw laurea for dottores. Venice. Abano Terme. Valsanzibio di Galzignano. Arqua Petrarca. Abbazia di Praglia in Teolo. Montegrotto Terme. Train through Innsbruck, Austria to Germany.
Germany
Munich - Jul 20, 2009. Friends. Bad Wiessee. Tengernsee. Bad Tolz. Dachau.
Czech Republic
Olomouc - Jul 26, 2009. Friends. Mohelnice. Litomysl. Sternberk. Zoo. Kromeriz. Prostejov.
Frydlant nad Ostravici - Friend. Wallachian Wooden Village Museum in Roznov pod Radhostem.
Poland
Krakow - Aug 16, 2009. Kazimierz. Old Town. Wawel Castle. New Jewish Cemetery.
Gdansk - Friends. Oliwa.
Germany
Wilhelmshaven - Aug 26, 2009. Friends. Bremen. Spiekeroog in Wattenmeer NP. German Emigration Center in Bremerhaven.
Dusseldorf - Altstadt at night.
United States
Miami - Sep 3, 2009. Family and friends.
Brattleboro, VT - Friends. Autumn leaves. University of Rhode Island and Naragansett Beach. Northhampton, MA.
Miami - Family and friends. Daytrip in small plane to Melbourne; and by road for a couple days.
Palm Bay - Jan 1, 2010. Apartment.
Curacao, Netherlands Antilles - Feb 1. Visit family for a month. Carnival parades. Meet Couchsurfing group.
Palm Bay -